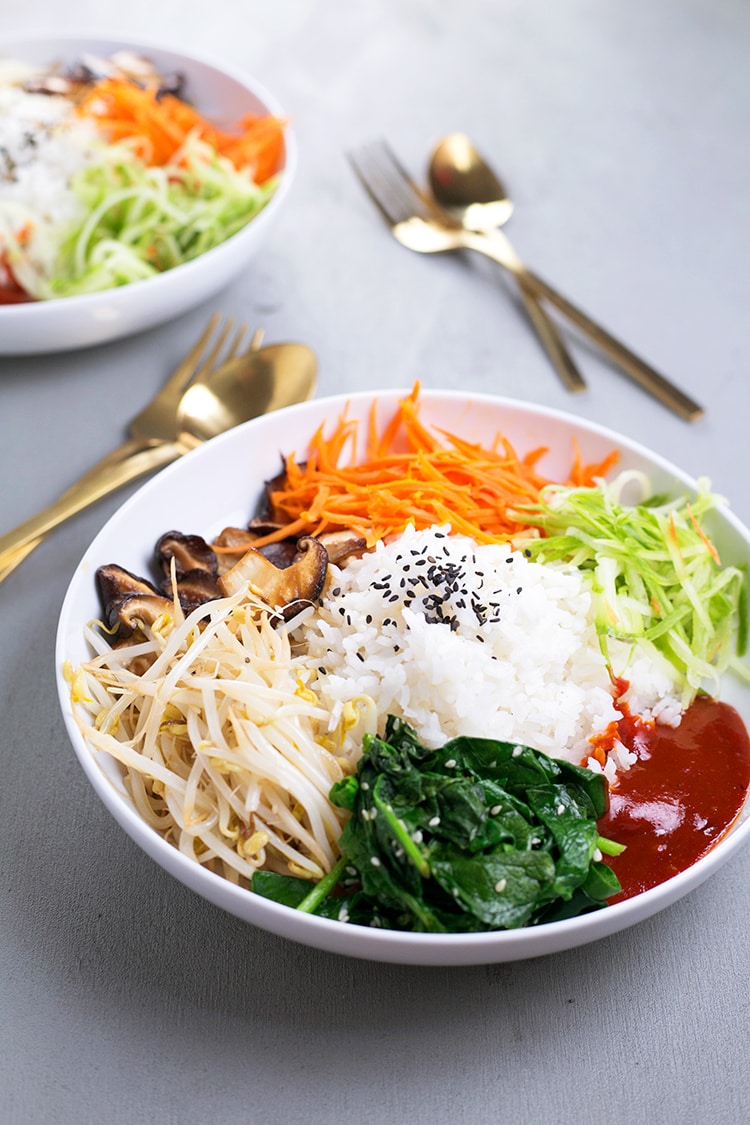 Ahoy, mateys! I'm back with another f*cking recipe to share with you guys. But before that, I have a question…. have you ever experienced the 4 stages of arousal? Excitement, Plateau, Orgasm and Resolution. I just want to say that if for some reason you haven't, you are guaranteed to experience it in today's recipe. Fair warning. Stop reading now if you want to preserve your innocence. Anyway, back to business: Korean food is one of the best food on the planet. Bibimbap, in particular, is the rockstar of Korean cuisine. Korean Bibimbap is basically a dish of steamed rice, served with sautéed seasonal vegetables and meat and served with an addictive Gochujang chilli sauce. Of course, we don't do no meat here, so I've come up with a recipe for a delicious Vegan Korean Bibimbap. Yay.
Rice! Who doesn't like rice? Brown rice, white rice, black rice, wild rice. Rice is like a man. Hard on the outside, but once you dump it into boiling water, it softens into fluffy deliciousness (Kids, don't try boiling your boyfriends in water at home – I'm a professional man boiler, and I don't recommend trying it out unless supervised by an adult).  For my Vegan Korean Bibimbap, I stick to good ol' medium-grain white rice. Can't go wrong with white men…I mean rice.
No Korean Bibimbap is complete without a spicy Gochujang Chilli Sauce slathered all over it. I'm not a fan of anything spicy, but the one exception I will give into is Gochujang. I've used it to roast Sweet Potatoes, I've used it as a Dim Sum dipping sauce, I've even used it to douche. I had to go to the hospital. But that story is for another day. My Gochujang Chilli Sauce is made up of Gochujang, Tamari, Sesame Oil, Brown Sugar and Rice Vinegar. To me, this combination is perfect, but you can always tinker around with the level of sweetness or saltiness, according to your taste.
The vegetables I use in my Vegan Korean Bibimbap are Bean Sprouts, Julienned Carrots, Sliced Shiitake Mushrooms, Spinach and Julienned Cucumber. The Shiitake Mushrooms are flash fried with some Tamari, Mirin and Brown Sugar. To be honest, I generally hate mushrooms, but I could easily eat a pot of these mushrooms alone, they are that good. All the remaining veggies, with the exception of the Cucumber, are quickly sautéed individually in a pan with a little salt and sesame oil. Simple. Why individually? I don't know. The Koreans do it that way, so I do it that way. Duh.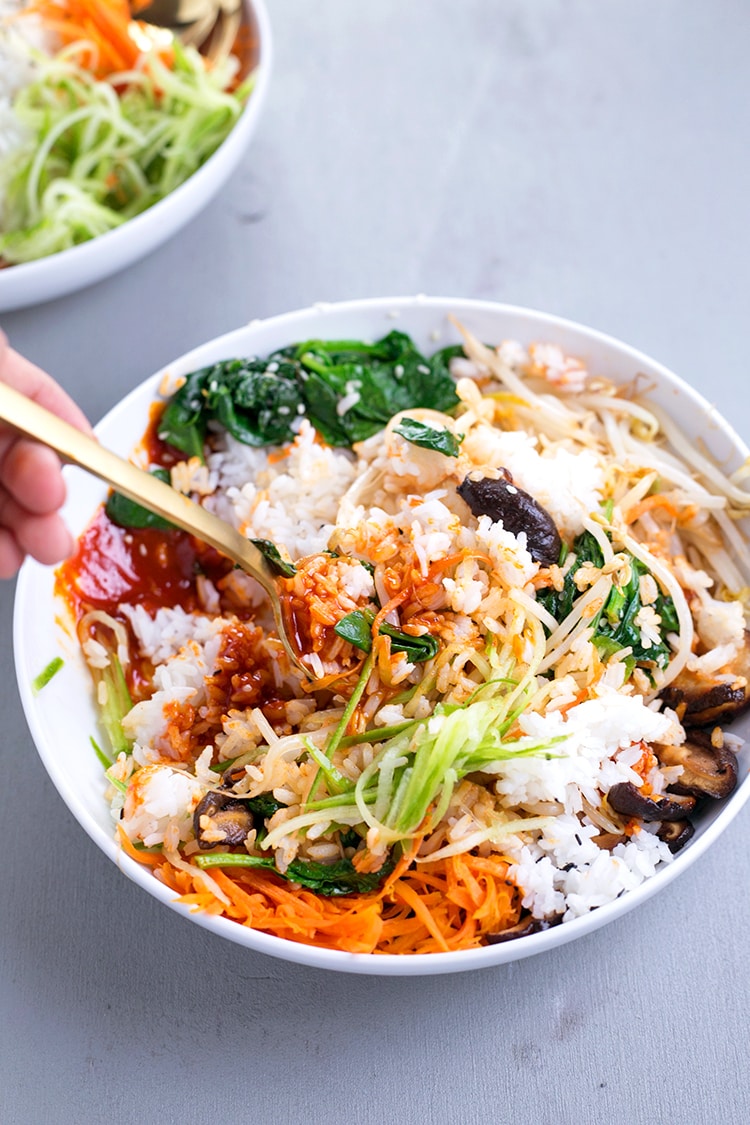 According to Wikipedia, Korean Bibimbap has to be thoroughly stirred through before eating. And I don't mean a dainty stir, I mean, STIR IT LIKE A VERILE MAN. Stir it like Mulan would, post Chinese army training. I've seen ladies at restaurants eating it like little princesses. This really annoys me. I always have to stop myself from going up to them, b!tch slapping them and pulling all their remy extensions off. Just don't, okay?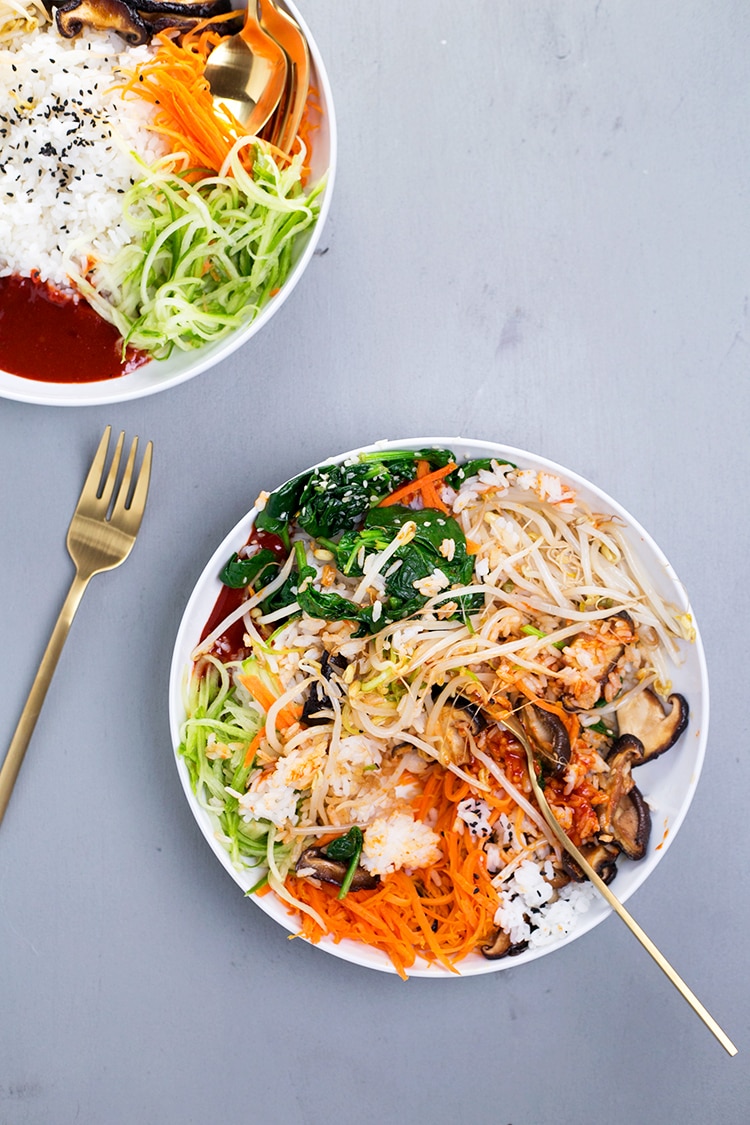 Bibimbap is, in general, a very healthy dish and much lower in calories than many Korean dishes. There is a grand total of 2 teaspoons of Sesame Oil in this entire recipe, making each serving pretty low in fat too. For those who are on a High Carb Low Fat Vegan diet, this one's for you! You don't need a bunch of fat to cook delicious food.
So, lovely people of the internet whom I will never ever meet in this lifetime, scroll down for the full recipe for my Vegan Korean Bibimbap. It's Low in Fat, obviously Gluten Free (I use tamari, not soy!) and hella delicious. Who the hell needs the sweet caress of human touch when there is delicious food? Not me, mofos!
(Don't forget to Like my Facebook page. Remember to scroll over the Like button a second time and select 'See First' so that my new recipes will always appear at the top of your feed!)
Ingredients
1 1/2 cups cooked Medium-Grain White rice
1 1/2 cups sliced Shiitake Mushrooms
2 tablespoons Tamari
2 teaspoons Brown Sugar
1 tablespoon Mirin
1/2 cup Julienned Carrot Strips
1/8 teaspoon Salt
1/4 teaspoon Sesame Oil
2 cups Baby Spinach
1/8 teaspoon Salt
1/4 teaspoon Sesame Oil
1 cup fresh Bean Sprouts
1/8 teaspoon Salt
1/4 teaspoon Sesame Oil
1/2 cup Julienned Cucumber Strips
Gochujang Chilli Sauce:
2 tablespoons Gochujang (you can find a Gluten Free variety here )
1 teaspoon Sesame Oil
2 teaspoons Brown Sugar
1 teaspoon Tamari
1 1/2 teaspoons Rice Vinegar
To Serve:
Black and White Sesame Seeds