TURKEY BACON AND AVOCADO GRILLED CHEESE
#Recipe #food #Sandwich
A fancy twist on a grilled cheese. Turkey Bacon and Avocado Grilled Cheese grilled until golden and gooey loaded with fresh basil, tomatoes and mozzarella cheese on a hearty artisan bread.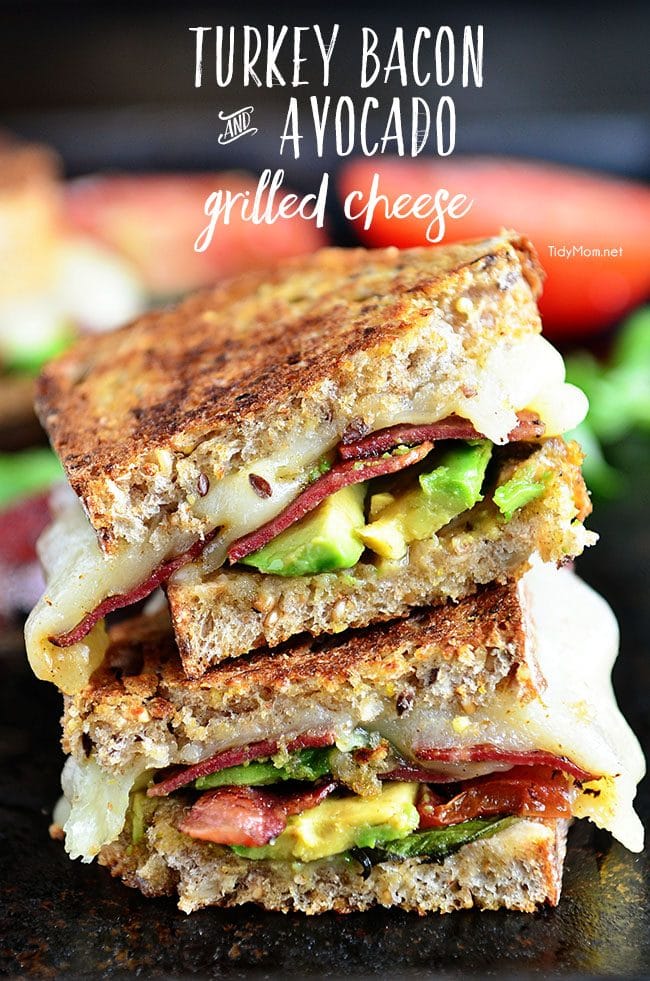 I have a thing for good sandwiches.  They need to have lots of texture and lots of flavor.  This Turkey Bacon Avocado Grilled Cheese hit it out of the park!!  It's a little like a BLAT (Bacon Lettuce Avocado Tomato) meets grilled cheese.
Everyone knows how to make a grilled cheese sandwich…. I know, but let me tell you, this sandwich is not your average grilled cheese sandwich. It is anything but. The flavors from the basil, turkey bacon, avocado and tomato mingle together with the melty mozzarella and crusty toasted buttered bread to make this sandwich extra special.
This has been one of those sandwiches that I like to just keep in my arsenal of quick, easy and absolutely delicious go-to recipes.  Great for summer, because you don't have to heat up the house, yet you still have a hot meal to put on the table. My whole family loves it!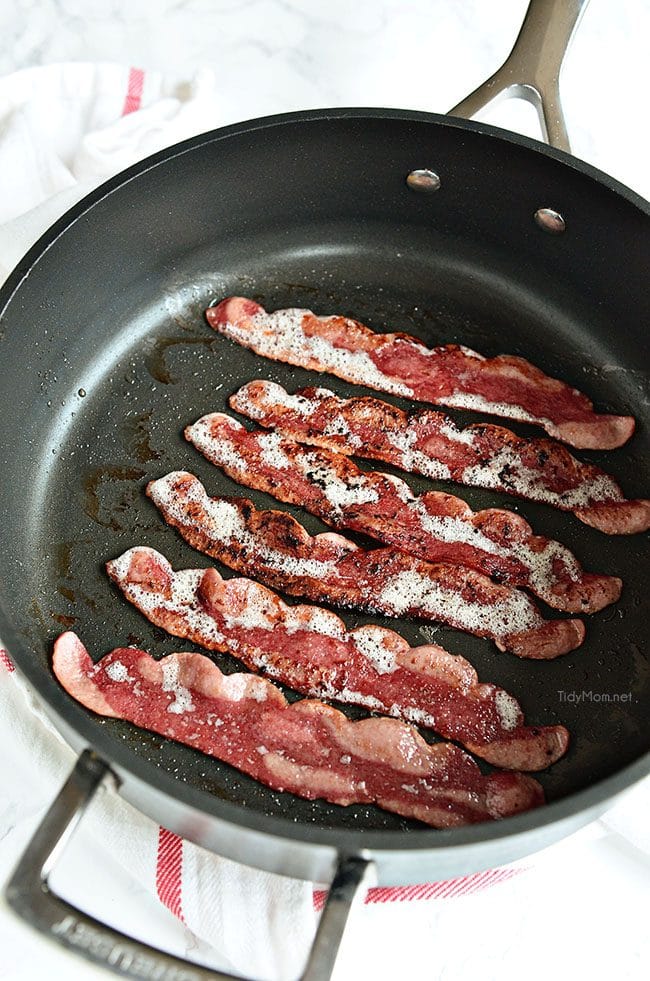 This sandwich starts off with Butterball Turkey Bacon, for a lighter and flavorful alternative to pork bacon.  I usually cook the whole package of turkey bacon, because Steve loves to snack on the left over pieces.
I like to use thick slices of hearty artisan bread, so it yields a nice crunch, once it's toasted.
If you'd like to go with the classic BLAT, you could use a lettuce of your choice, but I love to use basil leaves for an unexpected added flavor, with the juicy tomatoes and buttery avocados, it's magical!
As for the mozzarella, buy the best you can afford.  It's so creamy and melty and worth it.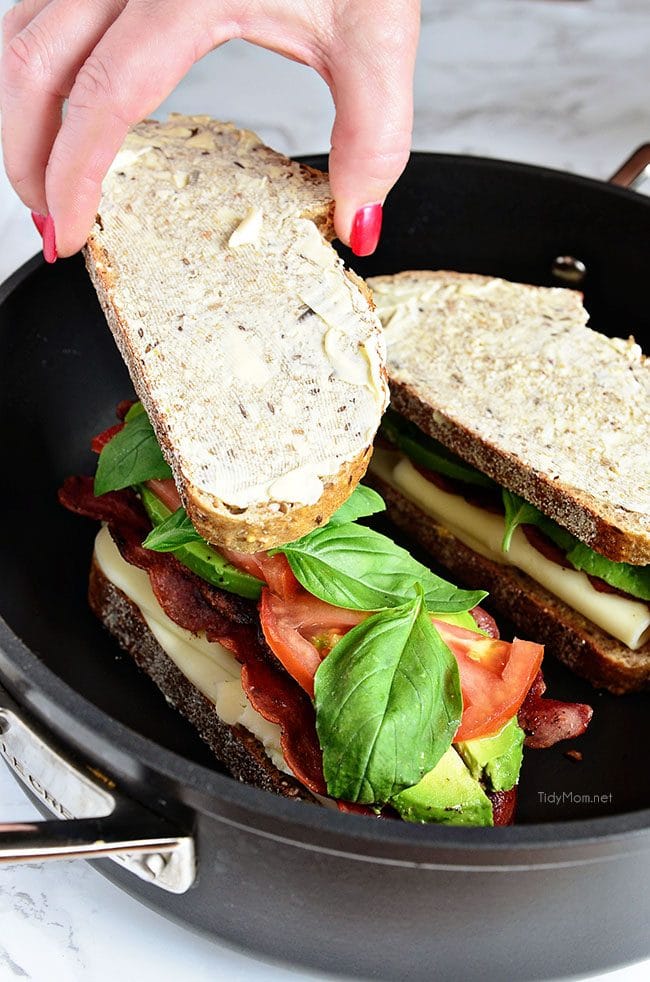 While the turkey bacon is cooking, slice the bread, tomatoes and avocado.
Butter one side of each slice of bread.
Once the bacon is cooked, lay a bread butter side down in skillet, layer with cheese, turkey bacon, avocado, tomatoes and basil and top with another slice of bread (buttered side up).
Cook over medium high heat until golden and glorious and cheese becomes melty.
Remove from skillet and enjoy!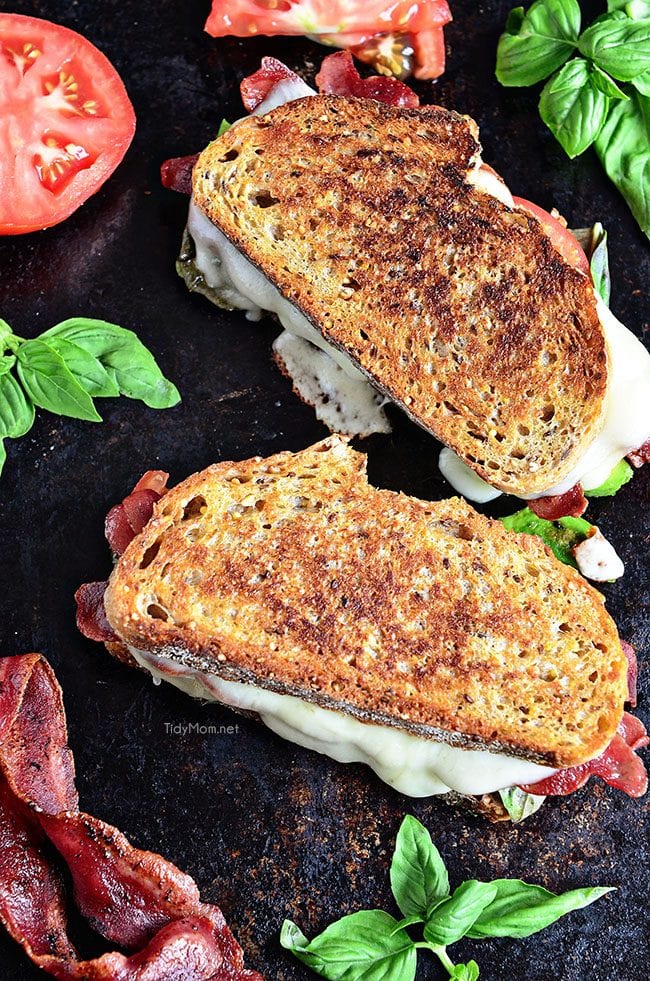 Of course you could split this sandwich with someone……. but who am I kidding, it's not like I shared my Turkey Bacon Avocado Grilled Cheese with anyone 😉  Just sayin'.
Saved From: https://tidymom.net/