ONE POT PASTA WITH CHICKEN, SPINACH AND MUSHROOM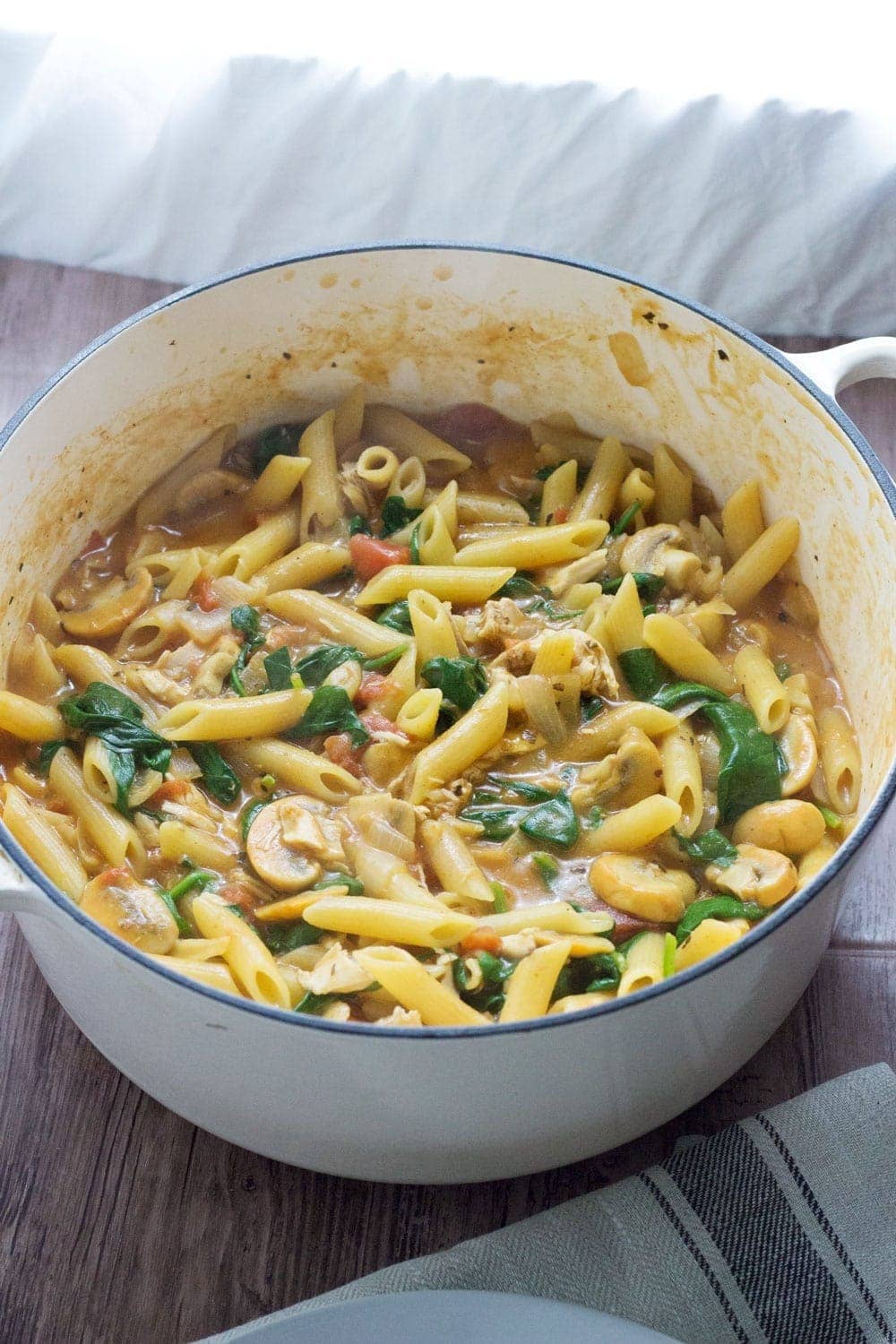 Last week I finally got round to trying out a one pot pasta and guess what, I'm in love! So easy, so tasty and so quick.
This was perfect for using up the left over veg we had in the fridge and you could definitely add anything else you had on hand.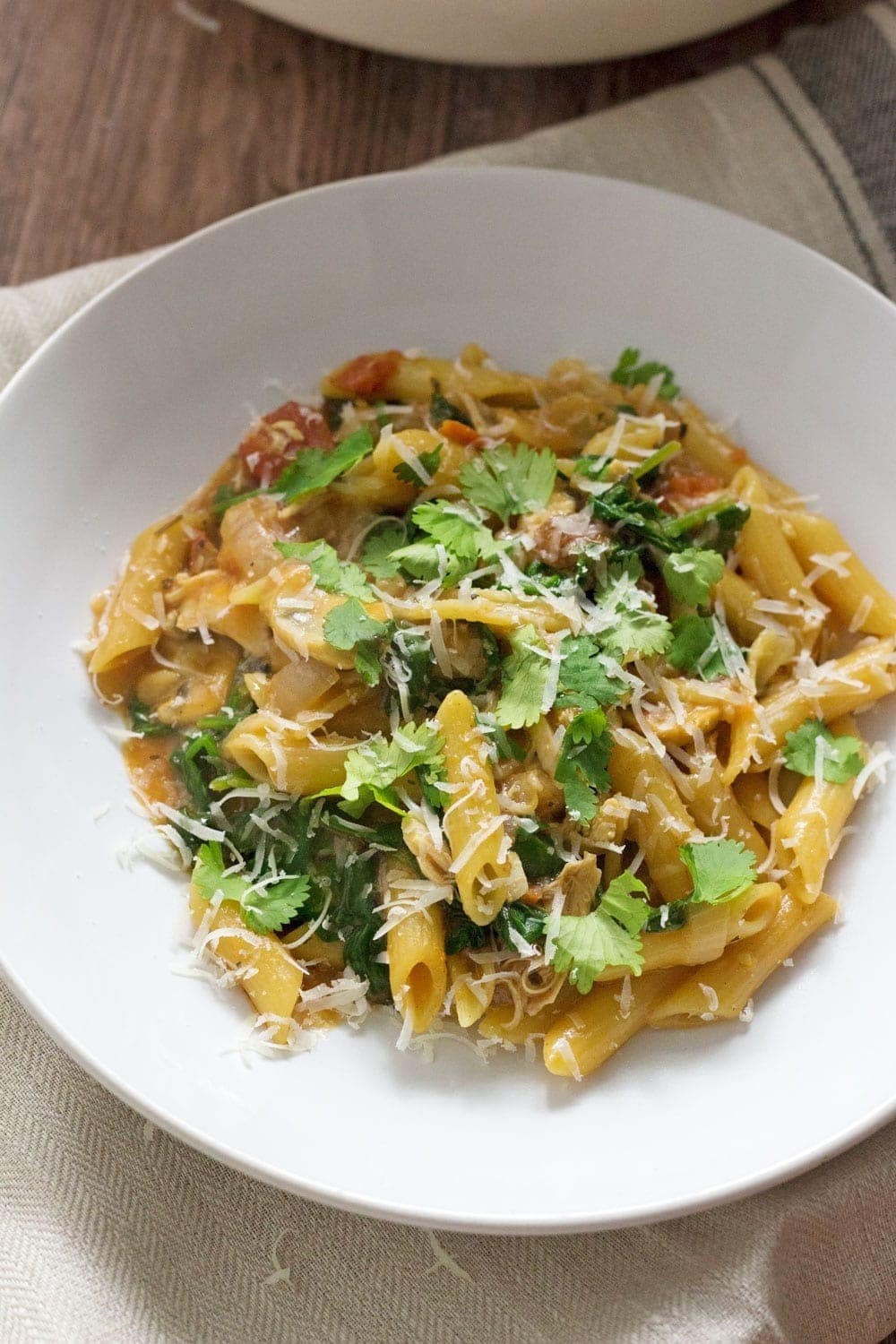 I looked up quite a few recipes before trying this out because I knew I wanted to include the chicken thighs we had and I wanted to see how other people had done it.
A lot of people had cooked the chicken first and then taken it out while they cooked the rest of meal. I really wasn't keen for that, my priority was being able to cook everything in the pot without having to remove and add things again. Basically just minimal faffing.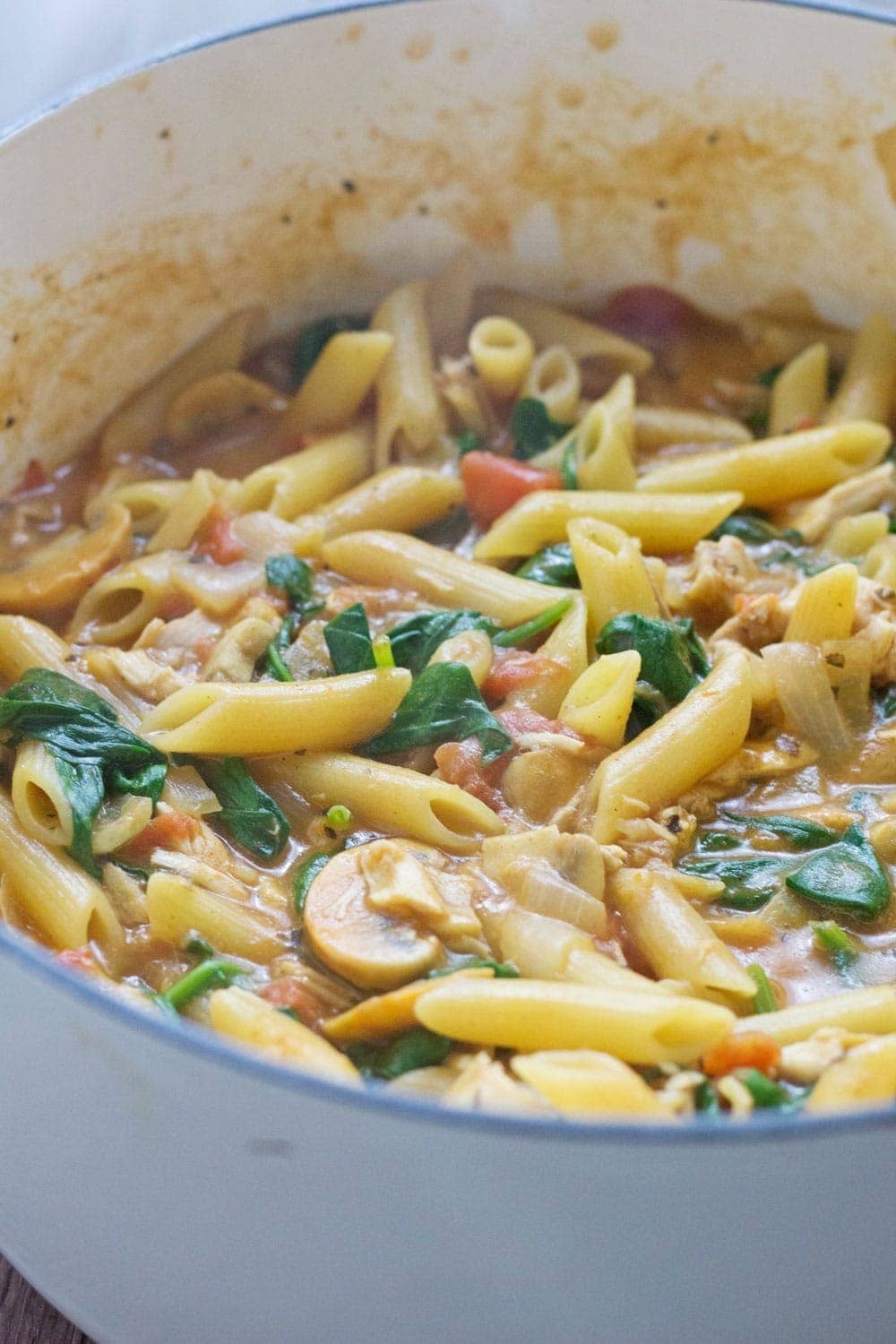 This recipe does exactly that – you cook the chicken for a short while to make sure it's all sealed and then it finishes cooking while you gradually add all the rest of the ingredients.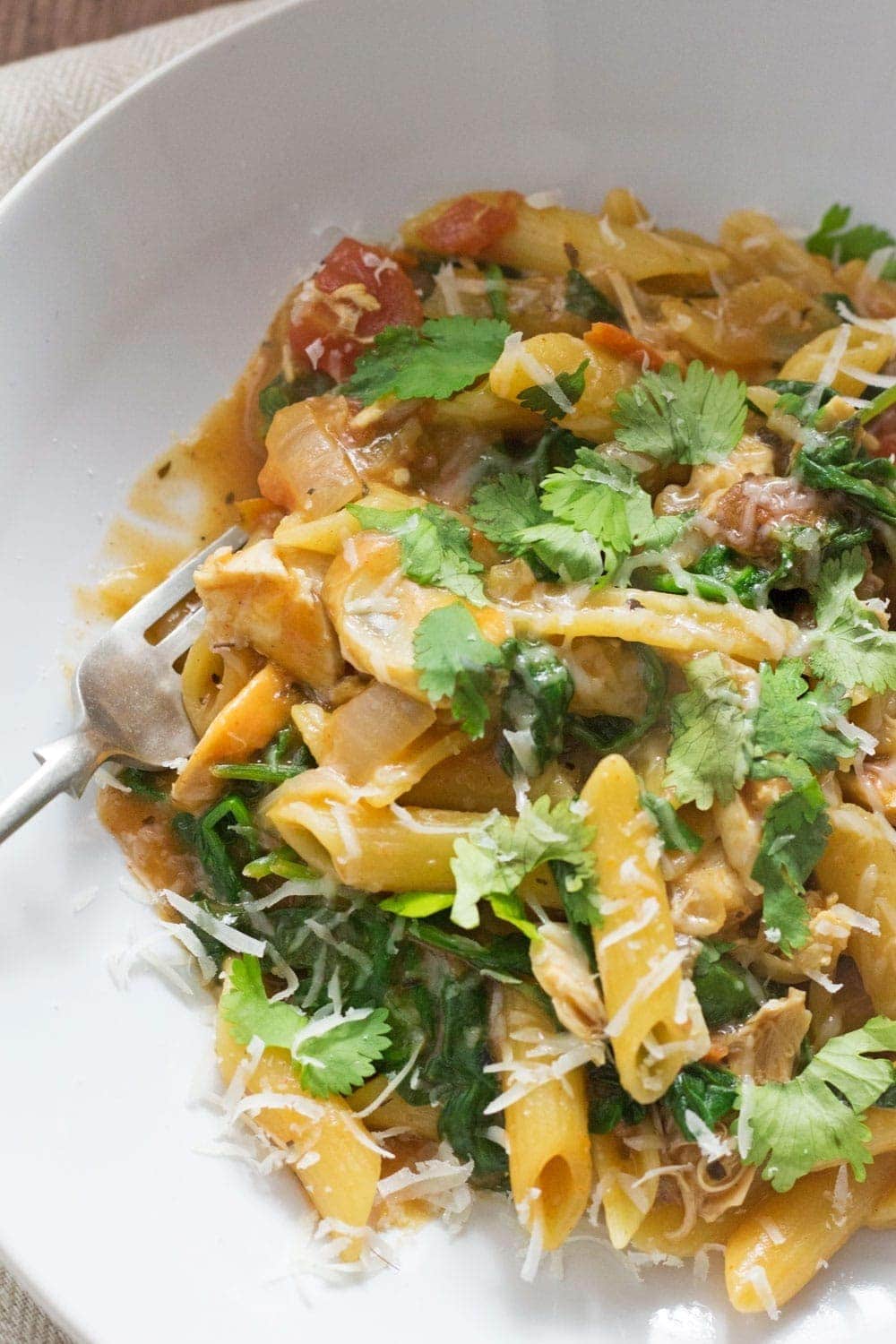 I used penne for this but you could really use any pasta at all. Once everything's been cooking for a while the starch from the pasta helps to thicken the stock and tomatoes and makes everything taste amazing.
I wish I had more time to make my own stock from scratch but unfortunately I have to resort to the ready made stuff. At the moment I'm obsessed with these knorr stock pots, they just have so much more flavour than the cubes.
How was everybody's weekend? Already it seems like so long ago but I did get to eat out a few times. I'll be reviewing one of the restaurants we went to later in the week so keep an eye out for that!
Ingredients
1

 

tbsp

 

Oil

1

 

Onion

 

chopped

2

 

cloves

 

Garlic

 

crushed

2

 

tsp

 

Dried Oregano

1

 

tsp

 

Smoked Paprika

1/2

 

tsp

 

Chilli Flakes

4

 

Skinless and Boneless Chicken Thighs

 

sliced

200

 

g

 

Button Mushrooms

 

sliced

150

 

g

 

Baby Leaf Spinach

400

 

g

 

Pasta

1

 

400g tin

 

Chopped Tomatoes

1

 

litre

 

Chicken Stock

120

 

ml

 

Milk

1

 

tbsp

 

Worcestershire Sauce

Salt and Pepper
Instructions
Heat the oil over a medium heat. Cook the onion for a few minutes until softened. Add the garlic, spices and chicken and cook until the chicken is almost cooked, about 10 minutes.

Add the mushrooms, cook for a few more minutes. Add the pasta, tomatoes, stock, Worcestershire sauce and milk plus a big sprinkling of salt and pepper. Bring everything to the boil and then simmer for about 10-15 minutes. I found that the pasta took a little longer to cook than normal so you might need about 15 minutes.

A few minutes before the end of cooking add the spinach and let wilt into the pasta. Once the pasta is cooked serve topped with a sprinkling of parmesan if you like.